Core has a vast number of visual effects that are built-in and easily editable. You get to start with high quality effects that already exist and customize to make them your own.
Our team at Manticore has built a huge level map that you can explore at any time to see just some of the ways that all of our different visual effects (often shortened to VFX) could be used.
Click here to go to the VFX level map page.
To get a tour of what is possible with visual effects in Core, run around this map and then come back to this tutorial to learn how to make a couple of the effects found on this map!
Dozens of Built-In Effects
Core comes with all sorts of visual effects built-in, all with different parameters for altering how they look and move.
To find all these visual effect objects, navigate to the Core Content tab and click on the "Effects" section.
This window can also be accessed via the dropdown menu "View -> Core Content".
Currently, there are 7 different sections that contain effects you can use right away:
Character
Environmental
Explosions
Magic
Misc
Vehicles
Weapons
These larger categories can be found by clicking the little drop down arrow on the left side of the Effects button label. Each of these categories also have subcategories, that can be opened the same way: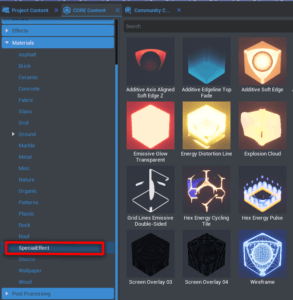 To check out what any of these VFX objects do, drag one into your viewport or Hierarchy. In most cases it will start playing immediately, but for one-off animations, you'll probably want to reactivate them multiple times to see what they do.
All VFX have a Play button at the top of their Properties window, so to check out what an explosion looks like, drag it into your scene and hit the Properties' Playbutton!
Special Effect Materials
Besides all of the more literal visual effects that Core includes, there is also a category of Materials that lend themselves nicely to VFX, the SpecialEffects materials:
Use these in combination with the Effects objects to get even more variety out of what you can make.
Post Processing Effects
Another category of effects that can make huge changes to your map are post process effects. As their name implies, these are applied on top of everything else in your game at the end, so they can be used to change everything visually about the game at once.
To find all our Post Process Effects, check out the Post Processing section of Core Content.
You'll probably want to always use some combination of these–the amount they can level-up a map visually is huge!